Empty gelatin capsules
are typically made using a process called "dipping." The process involves the following steps:

1.Gelatin preparation: The gelatin is first mixed with water and other additives, such as plasticizers and preservatives. The mixture is then heated and stirred until it becomes a liquid.
2.Capsule dipping: The dipping process involves dipping two pin-like rods into the gelatin mixture, which forms a film around the rods as they are lifted out of the mixture. The rods are then rotated to spread the film evenly and to form the two halves of the capsule.
3.Drying: Once the capsule halves have been formed, they are dried to remove any excess moisture. This is usually done by placing the capsules in a warm, dry room or in a drying oven.
4.Trimming and joining: The two halves of the capsules are trimmed to the correct size and then joined together to form the final capsule. The capsules are inspected for quality and then packaged for distribution.
It is worth noting that some manufacturers use alternative materials, such as vegetable-based capsules or capsules made from hypromellose, which is a synthetic polymer. These capsules are made using different manufacturing processes and may have different properties compared to gelatin capsules.
Hard gelatin capsule size 3# gel capsule empty blue orange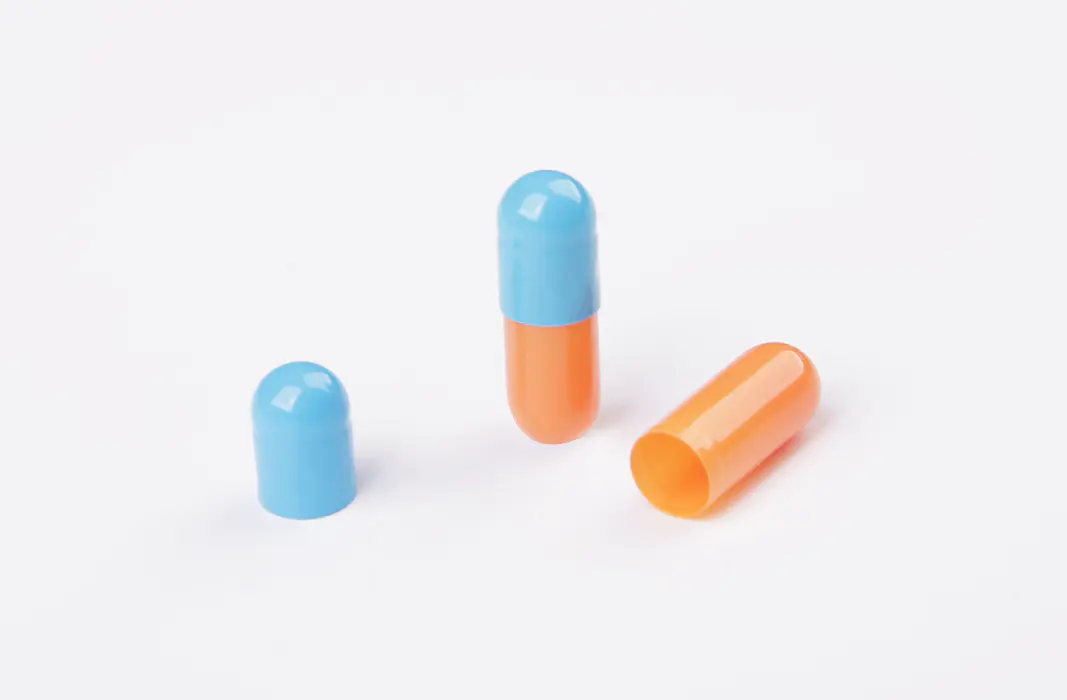 Gelatin hollow capsules are composed of a cap and a body two capsule shells refined by medicinal gelatin and auxiliary materials. They are divided into three types: transparent, translucent and opaque. The capsule has a long and slender shape, is easy to swallow, and is a medicinal dosage form that consumers can easily accept. The company's hollow capsules can provide axial, circular, directional, single and double color printing according to customer needs.